May 2015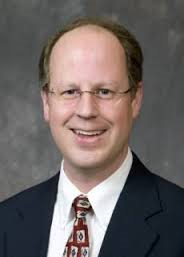 Scott Bradford, a descendant of Governor Bradford, was our guest speaker.  Scott is a professor of economics and a teacher of BYU's American Heritage course.  The full text of his speech is found here.
November 2013
Scott Fisher, prominent radio personality and new member of the Utah Mayflower Society, was our guest speaker at the annual November Banquet. The full text of his delightful and humorous talk can be found here.
May 2013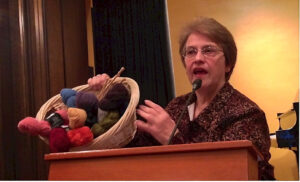 Sara Hacken, Utah Teacher of the Year, was our guest speaker. Not of pilgrim lineage herself, Mrs. Hacken stated what a pleasure it was to be asked to speak to the Utah Mayflower Society. Her speech was titled, "Why the Pilgrim Story Still Matters." Showing us a large depiction of the Mayflower passengers from Pilgrim Hall, she proceeded to show us samples of colors that were used to make Pilgrim clothing. Contrary to modern notions, Pilgrims did not wear black, a color that was expensive and denoted anything but fun, which Pilgrims enjoyed often in dance, music and games.
In the Pilgrim world view, everything had its place, and everyone knew his or her place. They took Sabbath Day observance seriously. They were not businessmen, tended to trust everyone, and were cheated numerous times in their transactions in the Old World.
Mrs. Hacken said that Pilgrims teach us five main lessons–personal and collective courage, rights of self and others, your choices matter, forgiveness and loyalty, and hard work and self-sufficiency. She concluded by stating that descendants of the Pilgrims (New Englanders) had the same attributes to buck their king in 1776 as the Pilgrims did to buck their king in 1620.
We wish to thank Mrs. Hacken for a very informative and interesting presentation.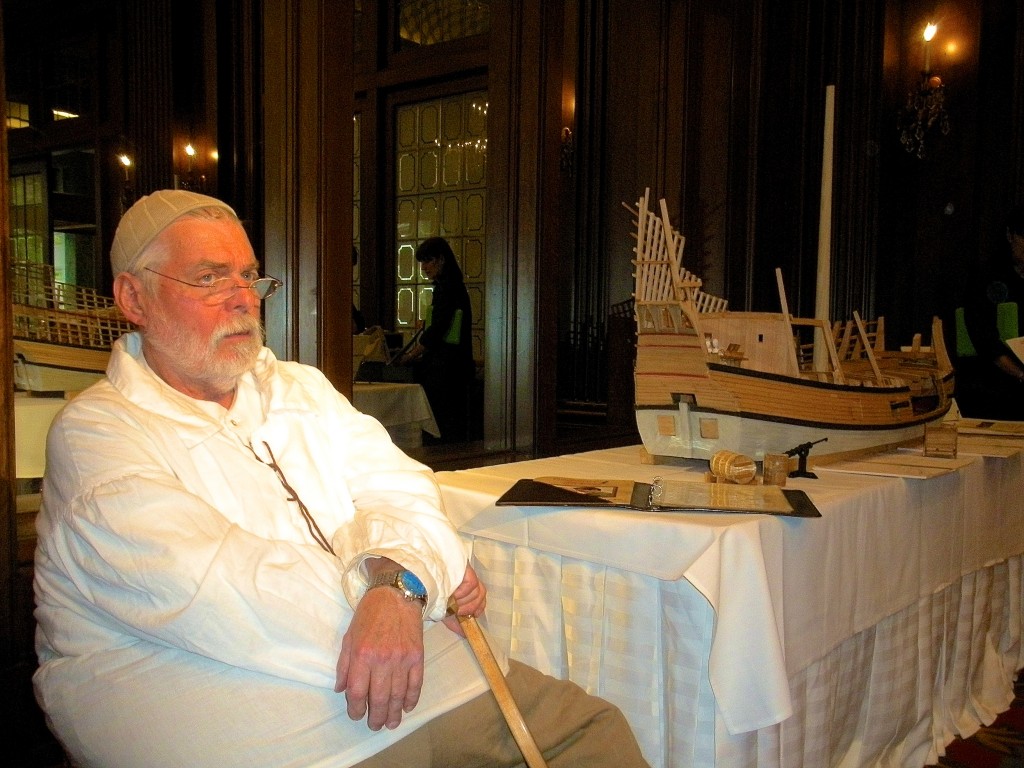 In addition to the wonderful talk by Sara Hacken, we were also privileged to have Jak Lundquist, Project Manager of The Mayflower Exhibit, with us. He brought with him a scale model of the Mayflower. The Mayflower Exhibit is a project of the Society for the Preservation of America's Founding Values. Thank you, Mr. Lundquist!
November 2012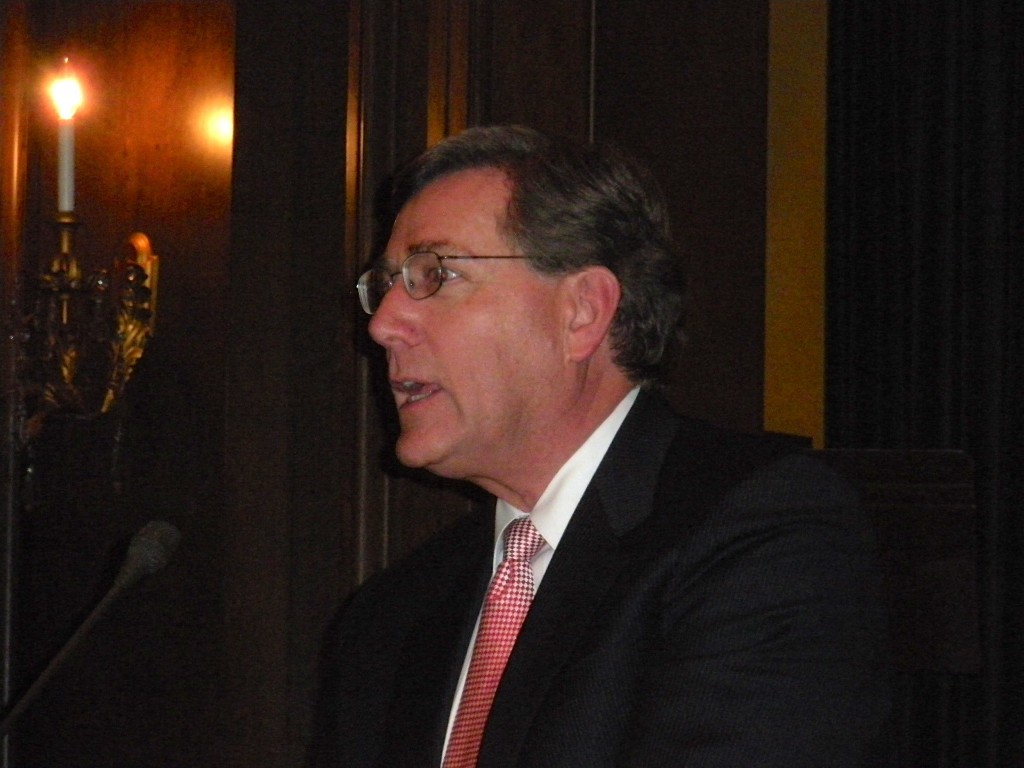 Our guest speaker was A. Scott Anderson, President and Chief Executive Officer of Zion's Bank. Mr. Anderson began his remarks by noting that there are millions of Mayflower descendants living today, but few of them know it. After giving a brief account of the Mayflower voyage and the importance of the Plymouth settlement to American history, he suggested that there are four chief characteristics that define the passengers of the Mayflower.
First, they were unwaveringly persistent in the face of overwhelming difficulties and discouragement. Within three months of landing at Plymouth, about 50 of the original 102 passengers had survived. Second, they looked to the future and the generations that would follow them. They had a broader perspective beyond what was immediately in front of them and accepted their responsibility to build for future generations. Third, they were governed largely by an attitude of brotherly love. In each New England congregation there were usually at least two preaching elders. Fourth, they were deeply acquainted with deity and relied heavily on their faith.
Mr. Anderson said, "Our political system rests upon two great facts–a Creator God and a sovereign people. If we deny the existence of God, whom Jefferson and our Founding Fathers believed endowed us with our individual rights, then upon what foundation does our democracy rest?" He concluded his remarks by declaring, "So, as we look forward to Thanksgiving Day 2012, let's think back on that first Thanksgiving in 1621, and as Edward Winslow said, let us show thanks and gratitude that, "yet by the goodness of God, we are so far from want that we often wish you partakers of our plenty." "
Thank you, Mr. Anderson, for your words of encouragement and for reminding us how blessed we are to live in this great land. Also, thank you for the two articles on the economy and the hand-dipped Hatch Family chocolates!
May 2012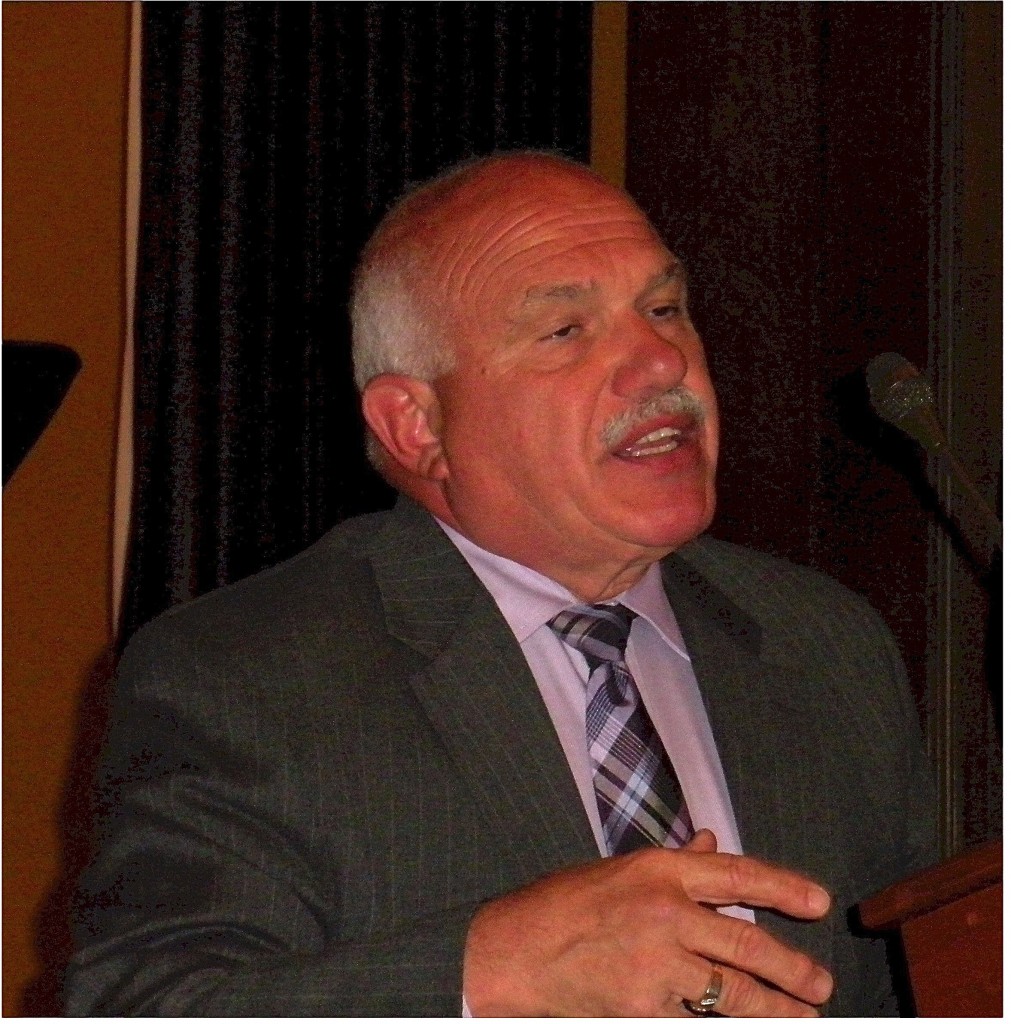 Dr. Philip Notarianni was our guest speaker at the May 2012 dinner meeting. A son of immigrant parents from Italy, Notarianni grew up in Magna, Utah. His parents and his wife's parents lived fifteen miles apart in Italy! In 2011 he retired after a 40-year career as a historian, which included eight years as director of the Division of State History. He is a member of Our Lady of Lourdes Parish in Magna.
He is the author of several books on history, most notably "Faith, Hope and Prosperity: A History of the Tintic Mining District." As noted by Governor Herbert, this book "led to the recognition of the Tintic Historical Society as the best local historical society in the nation."
He spoke about some of the major historical figures in the history of Utah and the settlement of the west. Recounting the lives of such notable explorers and pioneers as Jedediah Smith, John Fremont and Brigham Young, he stressed that the history of Utah is part of a "world dynamic." Since 1982, Dr. Notarianni has taught Peoples of Utah, a course in the Ethnic Studies program at the University of Utah, where he teaches as an associate instructor.
The Utah Mayflower Society thanks Dr. Notarianni for a wonderful presentation.
 November 2011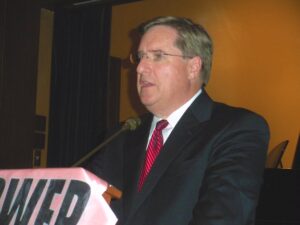 Our guest speaker at the November 2011 meeting was Larry White, attorney with Burbidge and White, in Salt Lake City. Mr. White was born in Medford, Oregon and graduated from the University of Oregon. He later earned his law degree from the University of Utah. Larry served as a mission president for the Church of Jesus Christ of Latter-day Saints in Hong Kong.
He began his talk by quoting several verses from the Book of Hebrews that he tied in with the Pilgrims. Mr. White said, "it is impossible to understand the Pilgrims in the absence of religion." He then recounted the account of how King Henry VIII broke with Rome, leading to the establishment of the Anglican Church and an English version of the Bible, which could be read by the masses.
The Pilgrims broke ranks with the Puritans and began meeting separately in 1586. Imprisonment was the punishment for holding meetings outside the Anglican Church, but the Pilgrim group persisted. Before sailing for the New World on the Speedwell, the Pilgrims lived in Holland where they could worship freely. The Speedwell was sabotaged by the crew, who had no intentions of spending a year away from their homeland, so the Speedwell returned to port after a short trip. Being undaunted in their quest for religious freedom, the Pilgrims set out on the Mayflower.
Mr. White declared that "the Pilgrims' religiosity persists in their descendants." Thank you, Mr. White, for sharing your insights with us.
May 2011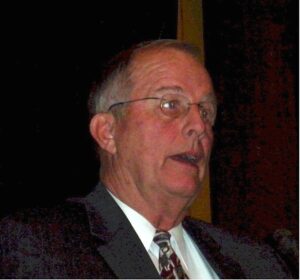 Dennis Crandall was our guest speaker at the May 2011 dinner meeting. Mr. Crandall has a long and distinguished career in law enforcement. He studied political science and police science at Brigham Young University. After working for the Los Angeles Police Department, he was hired by the United States Secret Service, where he has helped protect several presidents. He was in charge of security at the 2002 Winter Olympic Games in Salt Lake City. Mr. Crandall is retired from law enforcement but now teaches at Salt Lake Community College.
He explained how the Secret Service came to be and how it has changed over the years. Protecting the President of the United States has become very complex and demanding. Mr. Crandall quipped that security agents hate it when the newly elected president jumps out of the car in the inaugural parade to shake the hands of people in the crowd. He said that Secret Service agents have to have a healthy relationship with presidents because they are always close to them, even if it means jogging with them, as Mr. Crandall did with President Clinton.
The Utah Mayflower Society is grateful to you ,Mr. Crandall, for a very interesting and informative presentation.
 November 2010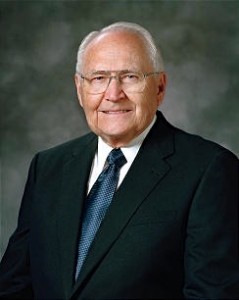 Our guest speaker was Elder L. Tom Perry of the Quorum of the Twelve Apostles of the Church of Jesus Christ of Latter-day Saints. Elder Perry began his talk by stating that his Mayflower ancestor is Degory Priest.
During the era when Columbus sailed the globe, Spain was a major world power, Elder Perry exclaimed. But at the roots of Spain's power was her wealth. The English explorers, the Pilgrims, sailed for other purposes. "The Spanish came for gold, the English came for God," he said. "The Pilgrims' beliefs were centered in a trust of a divine being."
Elder Perry lamented that we get too comfortable with the gifts of previous generations. Referencing Tom Brokaw's book about Americans from the World War II era, he said, "I am willing to abdicate the title of the greatest generation to whomever is willing to take it on." "We need to teach our children and grandchildren about sacrifice. We need to be taught to have the courage to preserve our blessings."
We appreciate Elder Perry taking the time out of his very busy schedule to speak to the Utah Mayflower Society. Thank you, Elder Perry!
May 2010
Judge David Sam was the speaker at our May 2010 dinner meeting. David Sam, a son of Romanian parents, was born in Indiana, received his BS degree from Brigham Young University in 1957 and his law degree from the University of Utah in 1960. He was a United States Air Force Captain as a member of the Judge Advocate General from 1061 to 1963. After his military service he held a private practice in central Utah until 1976. He was a Utah district judge from 1976 to 1985. Judge Sam was nominated by President Reagan in 1985 to the United States District Court for the District of Utah. Serving as chief judge until 1999, he now serves in a senior status for the court.
He titled his talk "Freedom is Not Free." Judge Sam recounted the story of his wife's father who lost his life when his B-17 was shot down in World War II on March 17, 1945. She was born only three days before this fateful day. He showed us some pictures and documents and read a moving poem commemorating his heroic mission.
Judge Sam arrived at our dinner from the naturalization court. He told us that a Somalian man, shortly after receiving his United States citizenship, declared that if he were receiving his German citizenship, he would still be a Somalian. He similarly declared that if he were receiving his Russian citizenship, he would still be a Somalian. But he then declared, "But today, I am an American!"
David Sam ended his presentation in gratitude, stating that he wishes he could be a member of the Mayflower Society and that perhaps he could be "adopted." Thank you, Judge Sam, for an inspiring speech.
November 2009
Judith McConkie, Curator of the Utah State Capitol Building, was our guest speaker at the November 2009 dinner meeting. She has a MFA degree and a PhD. Dr. McConkie jokingly remarked that at least twice a week someone walks into her office asking for information. The most common questions are, "Where is the Mormon Meteor?" and "Where is the image of Jake Garn, the astronaut senator?"
Judith devoted most of her presentation to Cyrus Dallin, the Utah born artist who sculpted Massasoit (shown on the "For Members" page of this web site) the friendly chief of the Wampanoags who greeted the Pilgrim colonists at Plymouth Rock. Cyrus Dallin, who was reared in the small Utah town of Springville, had Ute Indian boyhood friends. As a boy Cyrus sculpted heads of clay, showing his artistic talents at an early age. Dallin studied with the famous sculptor Truman Bartlett in Boston. After opening his own studio a few years later, he saved enough money to travel to the art capitol of the world, Paris, where he developed into a world class artist in the classical style. His most famous piece, Appeal to the Great Spirit, sits in front of the Boston Museum of Fine Arts. After a few years of renovation at the Utah State Capitol, the replica of Massasoit stands again at the seat of Utah government.
Other pieces of Dallin can be found in Chicago's Lincoln Park, the Library of Congress and around Utah. But perhaps the most notable work of Dallin is the Angel Moroni that sits atop temples of the Church of Jesus Christ of Latter-day Saints.
For further information, go to the web site www.utahstatecapitol.utah.gov. Our thanks go to Judith McConkie for an informative presentation.
May 2009
Our guest at the May 2009 dinner meeting was Judith H. Swan, Governor General of the General Society of Mayflower Descendants. Governor Swan was born in Massachusetts and now resides in California. She holds a masters degree in business. She has served as Governor of the Orange County, California Mayflower Society and is the former Treasurer of the General Society. She began her duties as Governor of the General Society September 2008.
In her presentation, Governor Swan focused on the women of the Mayflower, recounting some interesting and perhaps not well known facts about the women passengers. Oceanis Hopkins was the only child born during the voyage. Of the 102 passengers, there were no single adult women on the ship. Including the voyage itself and the time the ship was in the harbor, the women of the Mayflower spent six months onboard in cramped dirty quarters, which probably accounts for the high death rate of the Mayflower women. Of the nineteen women who came to Plymouth, thirteen died the first winter and another died later. Mary Chilton was the first woman to set foot on Plymouth Rock. As the colony grew, women gained more rights and privileges with respect to land ownership and the governance of the colony.
Governor Swan gave an update on the General Society. She declared that the Society has two primary goals–to attract and retain new members and to improve the infrastructure of the Society. The Society will emphasize education, develop a new program to attract junior members, streamline the budget, redesign the web site, and accept applications through all Mayflower passengers beginning January 1, 2010.
Thank you, Governor Swan, for your enlightening presentation.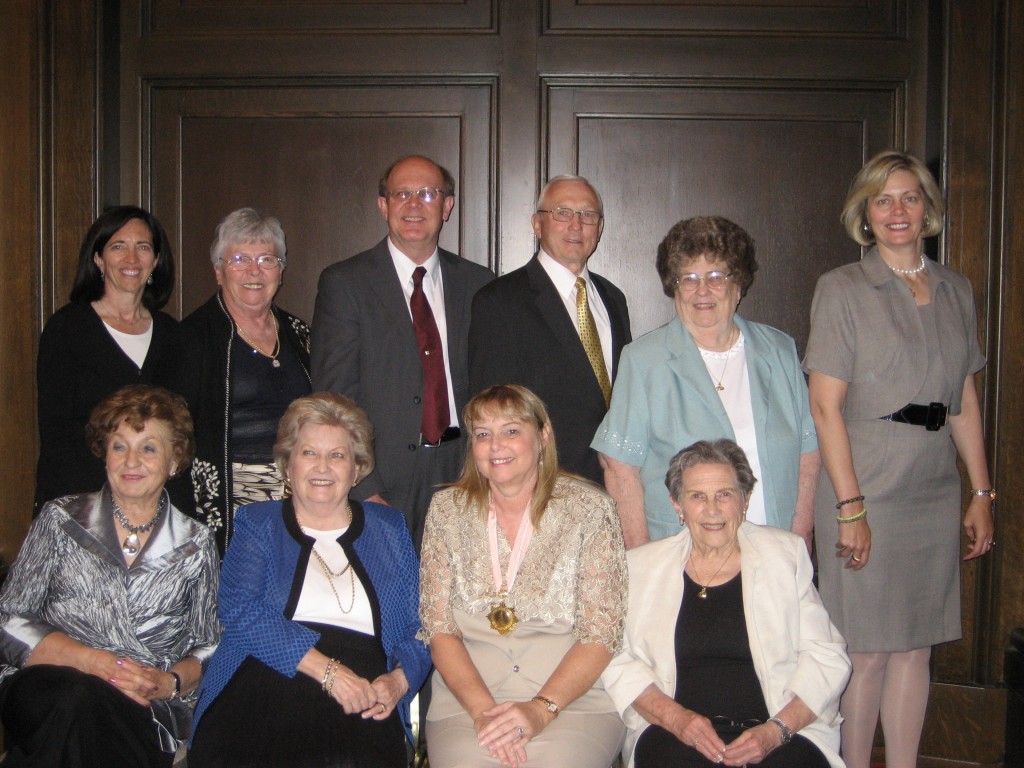 November 2008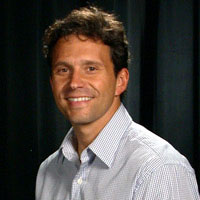 Doug Fabrizio was the guest speaker at our November 2008 dinner meeting. Doug, who is a former neighbor of our Governor Elaine Holbrook, has been reporting for KUER Radio since 1987 and became News Director in 1993. In 2001, Doug became host and executive producer of Radiowest, a one-hour conversation and call-in show. He is also the host of the weekly television broadcast Utah Now on KUED Channel 7. He also has served as a guest host of NPR's "Talk of the Nation." Doug has received numerous awards from various broadcasting organizations for his reporting and the Radiowest program. He earned his degree in Broadcast Journalism from the University of Utah, with minors in Theater and Spanish.
Doug began his speech by stating that one of the major lessons he has learned from radio is the art of listening. He aptly demonstrated this art by playing several sound recordings, including a glacier flow, ants rubbing their bodies together at the entrance of their hill, cooling of a lava flow, a World War II speech by Winston Churchill, a portion of Beethoven's 6th Symphony, and the microwave background radiation, the remnant of the 14-billion year old big bang. In a sound recording that Doug played, Desmond Tutu declared, "A person is a person through other persons. I need you for me to be me." Doug said that when he is "doing it right," his interviews transform themselves into something organic. In today's world where there is so much information, Doug stressed that listening is more important than ever. "There are rewards for listening–understanding, peace and grace."
Thank you, Doug, for an informative and inspiring message.
May 2008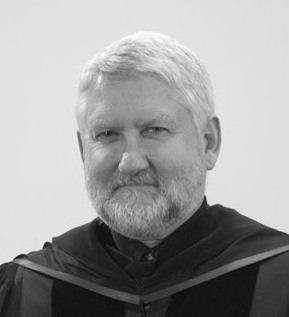 Dr. Gene A. Sessions was our guest speaker at the May 2008 dinner meeting. Gene is the Chair of the Department of History at Weber State University, where he has taught since 1976. He received his BA degree from Utah State University and his MA and PhD degrees from Florida State University. At Weber State, Dr. Sessions is one of eight faculty who currently hold the rank of Presidential Distinguished Professor.
After making a few self deprecating remarks about his facial hair, Gene discussed the voyages that Christopher Columbus made to the Americas and their global impacts. In the so-called Columbian exchange, America and Europe were transformed in a variety of ways. For example, in 1493 Columbus brought to Europe potatoes and tomatoes, two crops that were not found in that part of the world. He also brought tobacco, which Gene referred to as the "Indians' revenge" to the Europeans who brought diseases such as measles, chicken pox and malaria to America.
Dr. Sessions exclaimed that there was little or no celebration in 1992 of the 500th anniversary of the discovery of America by Columbus because many people regard this event in history as the "American holocaust," a period in which the native Americans and their pristine environment were ravaged and exploited by the Europeans. He explained that peoples have moved around the globe since the beginning and that these movements always create tragedies. However, we should not be apologetic nor should we hold negative attitudes about key historical movements of peoples, including the movement of our Pilgrim ancestors from England to Cape Cod. Gene exclaimed that the Mayflower Compact was the model for what happened in Philadelphia in 1789, the adoption of the Constitution of the United States.
Gene, thank you for a marvelous presentation.
November 2007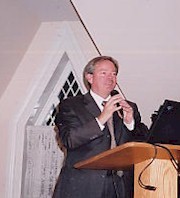 Dr. Scott R. Woodward was our guest speaker at the November 2007 dinner meeting. Dr. Woodward is the Chief Scientific Officer at the Sorenson Molecular Genealogy Foundation. The title of his presentation was "The Power of DNA–Discovering Lost and Hidden Relationships." In his presentation, Dr. Woodward spoke about how DNA analysis techniques are assisting in the great search for our ancestors. Founded in 1999, the Sorenson Molecular Genealogy Foundation seeks to change the way people think and act toward one another by showing that we are one great human family. The Foundation is creating a comprehensive database of the families of the world using correlated genealogy and genetic information, providing the tools needed to reconstruct genealogies using DNA, and making their data available to the public.
Dr. Woodward solicited help from the Utah Mayflower Society by encouraging participation in the ongoing Gateway Ancestor Project. Nowadays, DNA samples are collected by using a "scraper" to gently remove cells from the inside of a person's cheek. Members can learn more about the project by going to the web site www.smgf.org.
His research has taken him all over the world, collecting and analyzing DNA samples of numerous cultures. His work has been featured nationally and internationally on Good Morning America, The Discovery Channel and the Learning Channel.
Thank you, Dr. Woodward for sharing with us your knowledge and insights about a fascinating and far-reaching subject.
May 2007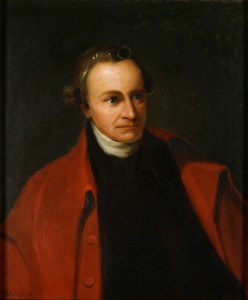 Our guest speaker at the May 2007 dinner meeting was professional actor, Michael Bennett. Mr. Bennett has made over 75 film appearances and over 500 radio and television performances. He is best known for his one-man shows in which he portrays famous historical characters such as Christopher Columbus and Patrick Henry. He won the George Washington Award in 1996. Mr. Bennett loves history and rigorously researches the roles that he portrays.
At our dinner meeting, he gave a stirring portrayal of American patriot, Patrick Henry, pictured at the right. Mr. Bennett's monologue of Patrick Henry, as governor of Virginia and a military commander, was powerful and moving. Dressed in period clothing and speaking with a commanding and authoritative voice, he articulated the political, philosophical and military positions of Patrick Henry at one of the most crucial times in our history. He spoke of the tension between the colonies and the King of England and the events leading up to the American Revolution. He also spoke of the tension between the rights of the new states and the fledgling federal government. His presentation ended with Patrick Henry's famous declaration, "Give me liberty or give me death!"
We are grateful to Michael Bennett for being our guest and for a wonderful portrayal of Patrick Henry. Thank you, Mr. Bennett.
November 2006

January 17th of this year marked the 300th birthday of America's first celebrity, Benjamin Franklin. In celebration of this event, our guest speaker was Mark Skousen, 8th generation descendant of Benjamin Franklin. Known as the "maverick" of economics for his contrarian and optimistic views, his sometimes-outrageous statements and predictions, Mark Skousen is a college professor, prolific author and world-renowned speaker. He has a unique sense of market and investment trends and is respected in the financial world.
Dr. Skousen has recently completed his book on Benjamin Franklin titled The Completed Autobiography of Benjamin Franklin, a book that covers the years 1757 until the death of Franklin in 1790. As resources for the book, Skousen used Franklin's letters, journal and other writings to finish the biography for the last 33 years of Franklin's life.
He began his speech by stating that Franklin was an irreverent person. "Franklin was a doer and a worker but not one for prayers and fasts," Skousen said. Franklin was a student of the Enlightenment, which disdained the idea that blood lines are significant. Franklin quipped that "nobility" meant "no ability." Due to his own abilities, Franklin retired at age 42 and devoted the rest of his life to service and scientific endeavors. Dr. Skousen cited Franklin's advice to descendants of famous people: Know your ancestors, pursue education (formal and informal), practice industry, frugality and prudence, and be humble. Franklin's attitude toward life was a positive one, even in his old age. He had gout, a "stone" and was getting old, but he still loved life!
Dr. Skousen closed by saying that Franklin wanted his epitaph to read that "I lived usefully" and not that "I died rich."
Thank you, Dr. Skousen, for a wonderful talk on the life of Benjamin Franklin!
May 2006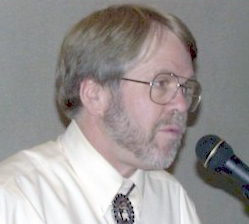 Our guest speaker at the May dinner meeting was Will Bagley, noted historian, author and speaker. Mr. Bagley is a native of Utah, attended Brigham Young University and holds a degree in history from the University of California at Santa Cruz. He has authored or edited over a dozen books. He has made numerous presentations throughout the state of Utah, and has served as a historical consultant for National Geographic Magazine, the National Park Service, Frontline, and for more than a dozen documentary films that have appeared on A&E Television, The History Channel, and PBS.
Mr. Bagley began his remarks by declaring that "in Utah, history really does matter." He then proceeded to draw parallels between the story of the Pilgrim Fathers and the Mormon pioneers who settled the west in 1847 and 1848. "You are descended from crazy people," he chided, meaning that both groups were willing to sacrifice everything for their beliefs and religious freedom. Referring specifically to the Pilgrims, he said that "these people were willing to stand up to power." By the spring following their arrival at Plymouth, nearly half of their party had perished. Mr. Bagley asserted, "It was never inevitable that either group was going to succeed, but they were tough." The severity of the pilgrims' suffering was not even matched by the suffering of the early Mormon pioneers, but both groups had three main things in common.
"The Pilgrims and Mormons had integrity, a strong sense of community, and were willing to risk everything," he said.
Thank you for a wonderful presentation, Will!
November 2005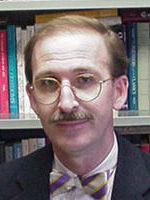 We were pleased to have Dr. Neil L. York, Professor of History at Brigham Young University, as our guest speaker. Professor York was born in San Luis Obispo, California. He earned his bachelors and masters degrees at BYU and his PhD at the University of California, Santa Barbara. He joined the BYU faculty in 1977, where he has been ever since. He currently serves as the chair of the History Department. Dr. York is the author of five books. His latest is titled Maxims for a Patriot: Josiah Quincy Junior and His Commonplace Book. He is married to Carole Makita of KSL Television, and they are the parents of two daughters.
Professor York, who first visited Plymouth in 1961, showed us an old Plymouth banner that resembled a baseball banner. He remarked that historians argue about Plymouth symbols, such as Plymouth Rock, the Mayflower ship and even Massasoit. He stated that much of what we know about the Pilgrim fathers is surrounded in myth. "It doesn't mean that the mythical is untrue; it just means that we believe in it even if there is no empirical evidence for it. The Plimoth Plantation layout and site details are based on supposition," he said. "Anything beyond documentation accounts are built up over time through constructions."
Dr. York said that no one really knows exactly what went on during the First Thanksgiving. Historical documents give no details of precisely when Thanksgiving was, what the people ate, or what festivities occurred. "There is a tendency to make the unknown known so we can locate ourselves. We need to have stories about ourselves, because if we don't have the stories we won't have the identity," he said. "We need to understand that we observe these traditions in order to preserve our sense of family in a nation with a higher destination and a higher purpose. The past lives in the present through present-day progenitors of Mayflower passengers."
Thank you, Professor York, for a very insightful presentation.
May 2005
Our guest speaker at the May 2005 dinner meeting was Elaine Witt, Professor of American Studies at Brigham Young University. Prof. Witt, dressed in pilgrim attire, portrayed Susanna White Winslow, one of the women passengers on the Mayflower. Susanna White came to America with her husband William and son Resolved. She was pregnant and gave birth to son Perigrine while the Mayflower was still anchored off the tip of Cape Cod. Her husband William died of the "general sickness" the first winter, and she remarried a few months later to fellow Mayflower passenger Edward Winslow. Their marriage in May 1621 was the first marriage in Plymouth. Susanna was only one of four adult women to have survived to see the "first thanksgiving" at Plymouth that autumn.
In first person, Elaine recounted the experiences of Susanna White beginning with the voyage from England. She emphasized that there were deep and dividing differences between her small group of religious separatists and the Church of England, who viewed this group as heretics and enemies of the Crown. The small group decided to pull up stakes and sail to the Virginia Colony. Originally, two ships were to sail to the new world, the Mayflower and the Speedwell, but the second ship was neither "speedy" nor "well", so 102 people, 40 "saints" and 62 "strangers", left England September 6, 1620 on the Mayflower.
The journey was dangerous. John Howland was nearly lost overboard in a violent storm, and on one occasion the mast cracked but was repaired using a large screw. The Pilgrims sang and prayed every day, believing that there was a great purpose in their journey. When land was spotted, their hearts were filled with joy (even though they were 200 miles off course to the north of the Virginia Colony).
Susanna's son Perigrine was born the second week of December, but her husband died ten weeks later. Susanna married Edward Winslow in May 1621. The first year was very hard–half the Pilgrims died during this time. But things gradually improved, and with the help of Squanto and the other native people, the Pilgrims were able to survive.
Prof. Witt ended her portrayal by singing Psalm 100, after which everyone in attendance joined in. Thank you, Elaine, for a wonderful portrayal of a Pilgrim woman.
November 2004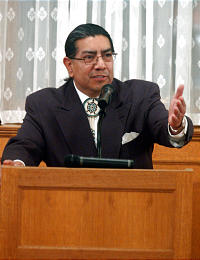 The speaker at the November 2004 dinner meeting was Forrest S. Cuch, Director of the Division of Indian Affairs for the State of Utah. Forrest was born and raised on the Uintah and Ouray Ute Indian Reservation in northeastern Utah. He graduated from Wasatch Academy in Mt. Pleasant, Utah, and he graduated from Westminster College with a Bachelor of Arts degree in Behavioral Sciences. In 1971, Forrest married Carla Giles Cuch, a Wampanoag business woman, who is of Pilgrim descent, from Martha's Vineyard, Massachusetts. After graduating from college, he served as education director for the Ute Indian Tribe for 15 years, after which he served as a planner for the newly recognized Wampanoag Tribe of Gay Head, Gay Head, Massachusetts. In 1994, Forrest was appointed social studies department head at Wasatch Academy. Since 1997, Forrest has occupied the position of Director, Division of Indian Affairs. He sees his present job as calling attention to the ancient presence of American Indian people in Utah and their enduring plight as citizens with their unique contributions yet to be made to our great state.
In his presentation, Forrest recounted that, as a child, he never fully learned about his people and their great American heritage because those subjects were rarely, if ever, taught in school. Forrest declared that he found his humanity by studying his people's history. "I had to appreciate my own culture before I could appreciate others," he said. Forrest emphasized that American Indians have a close connection with nature that reflects their relationship with God, the Creator. "Without this connection, we become ill," he said. He mentioned how ironic it is that the United States Government did not formally recognize the Wampanoag Tribe, the first tribe to greet the Pilgrims, until 1987. After recounting some atrocities committed by American Indians and white people, he declared, "I forgive you, and I ask you for your forgiveness. We need more dialogue."
Thank you, Forrest, for a very insightful and thoughtful presentation.
May 2004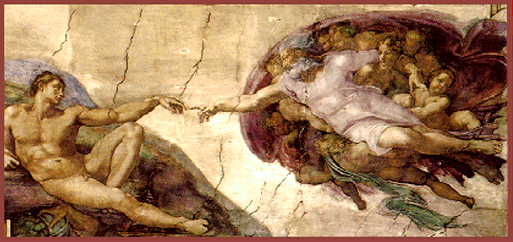 The speaker at our May 2004 dinner meeting was Nathan B. Winters, Professor Emeritus of Art and Architecture at the University of Utah. He gave a marvelous presentation on Michaelangelo's painting on the ceiling of the Sistine Chapel . Professor Winters explained how Michaelangelo and other artists of the day were avid students of the human anatomy and how these artists would go to great lengths to obtain cadavers so that they could study parts of the human body.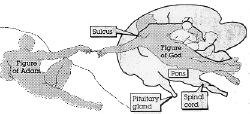 Perhaps the most famous section of the Sistine Chapel painting is the "creation of Adam" shown above. Referring to an article in the Journal of the American Medical Association, Professor Winters presented a recently developed theory that the image behind God is a cross section of the human brain. This interpretation of the image debunks the long standing idea that this painting depicts God in the act of creating Adam. According to the new theory, the painting depicts God imparting knowledge or intellect to Adam. It is widely believed that through Michaelangelo's extensive studies of the human brain, this particular background image was quite intentional on his part. The similarities between the painting and a cross section of the human brain are clearly seen in the sketch on the right.
What a great presentation! Thank you, Professor Winters.